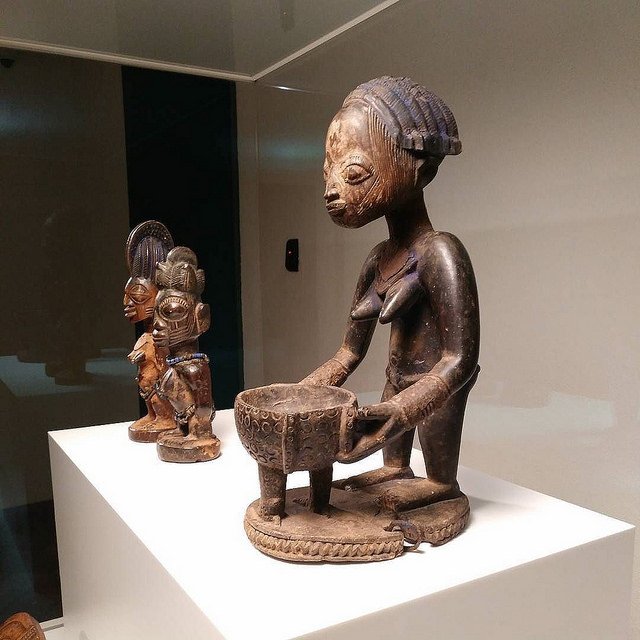 Rótìmí
---
Title: Stay with Me
Author: Ayọ̀bámi Adébáyọ̀
Publisher: Ouida Books
Number of pages: 306
Year of publication: 2017
Category: Fiction
---
For many newly-weds, aside from the many domestic variables, a vital hope for the marriage is that the bride will get pregnant at the expected time, as the expectation is that children will come. Well, until they do not come. This then becomes the problem that weaves the family in an emotional tangle. The couple, their relatives and even their friends cannot escape the discomfiture of proffering and/or listening to solutions that range from the absolutely ridiculous to the medically untenable. This unspeakable sorrow of childless couples who desire children is the pivot of Ayọ̀bámi Adébáyọ̀'s debut novel, Stay with Me. In it, she tells a gripping story, exploring the anxieties of childlessness, weaving that around the themes of sickle-cell disease, love and superstition, all with an effusive display of Yoruba culture.
The novel, which is written from multiple points of view, is the story of Yejide, who gets married to Akin, the love of her life, and becomes subjected to the pressure of satisfying her mother-in-law and her husband by getting pregnant. The resulting conflict dwells on her efforts to conceive: visiting prophets, excessive medical visits and other absurd activities that do not result in conception. Soon, life takes a twist when her mother-in-law, whom she fondly calls 'Moomi', decides to get Akin another wife, leading to intrigue, deceit, loss and hope.
Stay with Me narrates the pain and emotional trauma of a woman caught in the middle of nature's intrigue and what is traditionally and socially expected of the married. It is a poignant story that navigates a number of contemporary, affecting themes that are rarely discussed openly, from barrenness and sickle-cell disease to infertility in men, love and loss. We see how Yoruba society puts the blame of being childless on the woman.
The book, which is also a story of betrayal and deceit, successfully turns English into a language capable of yielding to the nuances of Yoruba, as the author playfully engages proverbs, argot and folklore. In fact, so skillfully does Adébáyọ̀ employ folktales and cultural nuances to enrich the telling of the story that it is easy to miss the significance of her accomplishment. The author also presents a Nigerian story that emphasises the dynamism of the country by showing that not everything about the country begins and ends in the city of Lagos.
Although the story is heart-wrenching, which should typically leave the reader curled up like a ringlet on a pillowcase, it still inspires hope, for the reader and even the characters. It is not a story of loss that defeats but of loss that leads to introspection. Pitting traditional against contemporary Yoruba culture, Adébáyọ̀ presents a society that has accepted the existence of a viable cottage industry – from marabouts to prophets, even to fertility clinics – that offers rather little help to those in great need.
The sharp edge of this book is its characterisation. Akin, Yejide's husband is despicable for his actions, yet lovable, and Yejide is reprehensible, but pitiable. The success of the story rests on its characterisation so much so that minor characters – like Funmi, Moomi, Iya Bolu, Dotun – become guiding lights for understanding not just the main characters but the society in which the novel is set, and this almost successfully hides the flaws in the plotting. Actually, there is a lot happening in the book at once, and it succeeds as a page-turner, even when one can correctly guess what could come next.
Although Adébáyọ̀ manages to create suspense in the novel, a careful reader might still struggle with Akin's condition. There are some questions that are likely to arise when one begins to consider the plausibility of Akin having gotten away with hiding his condition for so long. At key points, the story turns on the 'fact' that the two women closest to him, Moomi and Yejide, are ignorant of his condition, but the plausibility of this 'fact' is severely frayed. Even the most believing reader will be puzzled as to the onset of Akin's problem.
Yejide's character is also psychologically isolated, and her story is rather gushy: a victim of maternal death in a polygamous home, a dead father and distant non-conjugal relatives. The reader is already expected to extend pity to her. While these do not in any way take away from the writer's ability to make a beautiful story of life's vagaries and human expectation, it reduces the possibility that Stay with Me would be called a great novel.
For a debut, there is a lot to Stay with Me, and it is with eagerness that we await Adébáyọ̀'s next novel. Her ability to translate the Yoruba language into simple English, giving outsiders easy access to the intricacies of Yoruba culture, is remarkable.
---
Photograph: 'Arte Yoruba' by Fotero
---
Comments should be sent to comments@wawabookreview.com. Please use the appropriate review title in the email subject line.
Related
Next Post
A Journey into Loss, Almost Winning and Saudade
Jumoke Verissimo is widely published in magazines and journals across continents. She has written two books of poetry, I Am Memory (2008) and The Birth of Illusion (2015).